The last week in the Lakes has seen some really nice days of sun and lower winds, the freze-line has dropped below the summits on a number of occasions but its not been cold enough to bring ice or mixed routes into condition with the temps going into plus figures up high during the days.  Many of the gullies have been climbed though on OK neve at times, often aided by an early start, there is still loads of snow cover up high and many of the easy gullies are complete.  The Red Tarn face gullies and Brown Cove Crags gullies are still complete, the Nethermost to Tarn Crag gullies are also looking complete, the easy gullies of Great End also and the Bowfell area has plenty of snow still with South Gully and the Great Slab being well covered.
The overnight freezes have given some OK  frozen snow at times for climbing but it has been marginal and cornices have been worth watching all week as they are now a little saturated and heavy, large cracks have appeared behind the Helvellyn headwall cornice between the ground and snow, this is the snow pack starting to part with the warming ground and could eventually give a full depth avalanche as it did a few years back…
The classic edges of the Lakes are still snow covered, Swirral Edge is still well snowed up high and despite the daily thaws the tracks are well trodden and icy, crampons and axes definitely recommended.  Pinnacle Ridge is bounded by snow but dry on the crest throughout with a finishing snow slope.  The conditions definitely have a Spring like feel currently..
I have had some easy climbing this week but the softening snow, great cover up high and good weather has been amazing for skiing, some of the best skiing I've had in the Lakes, always brilliant and honestly no place I'd rather ski when its like this!
The Raise tows are by all accounts good currently with 'Spring snow'…
South facing crags would have given some great rock climbing at times this week also with some snow about for atmosphere!
Thanks for the great shots below from MovieIt.
See http://www.movieit.co.uk/ on Facebook to see some more brilliant Lakes shots from Steve Ashworth from this week – https://www.facebook.com/MOViEiT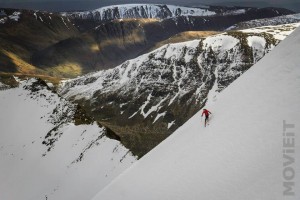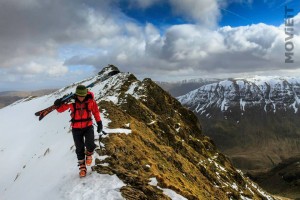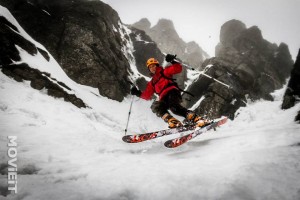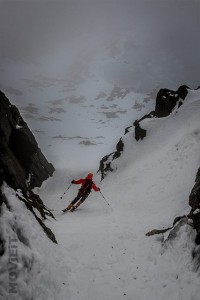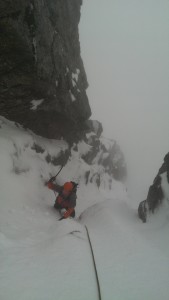 Guided Climbing for http://lakelandascents.co.uk/ last Sunday, Gully 1 on Helvellyn.