Navigation Course – The Lake District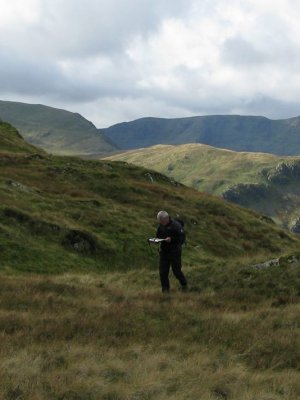 Dates: 23/05/15 – 24/05/15
Duration: 2 Instructional Days
Client Instructor Ratio: 1:4
Price: £100 (Course must be full for this price to apply – see page footnote)
Course Information
This instructional course is for people who want to spend time focusing on their navigation skills.  It can be useful for total beginners as well as hill walkers who already have some navigating experience but want to consolidate their skills.  The days out will take you away from the paths and cairns and onto the open mountainside where you can escape the crowds and use your navigational skills for real.  The Lake District Fells offer some brilliant terrain for this type of course.
Some of the skills we aim to cover on this course are;
map selection
route choice and strategy
compass use
taking bearings
pacing distance
timing distance
contour interpretation
judgment when route finding
weather effects and forecasts
relocating when disorientated
tracking another leader
micro navigation
What is included

Instructed days out

Technical Equipment (Maps and Compasses)

Accommodation

Breakfast

Evening Meal

Daily Transport
Sometimes, depending on where people are travelling from, there is the potential to arrange car sharing reducing the travel costs for everyone as well as being a bit more eco friendly. Please let us know if this is of interest.
The relevant Kit List is in our Resources.
For more information please Contact Us.
Note – We can still run this course/trip even if it is not full, however there might be an additional charge to bring the price up to a minimum daily rate/trip price for the relevant course or trip. Should a course not be viable due to lack of numbers we can discuss other options with you. As everyone has different levels of flexibility with dates and cut-off times for cancellation it's best if you let us know your situation when booking. In situations where you have offered last minute flexibility but Mountain Circles can not fill a course and has to cancel, we will refund the course fee and deposit in full, if you cancel from a course that is full and running then normal conditions apply, see Cancellations in How to book.