Skye – The Black Cuillin Munros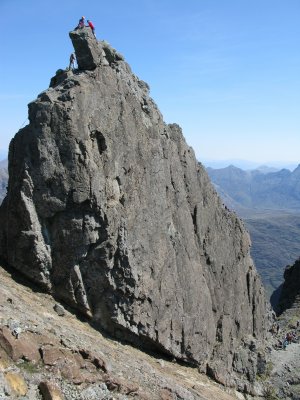 Dates:  04/05/15 – 07/05/15
Duration:  4 Mountaineering Days
Client Instructor Ratio:  1:4
Price:  £250 (Course must be full for this price to apply – see page footnote)
Course Information
There are few places as dramatic as the Isle of Skye, and its Munros are no exception.  The 11 Munros on the main Cuillin Ridge are considered some of the most technical in Scotland, with the awesome Inaccessible Pinnacle being the most famous and feared amongst those trying to complete the Munros of Scotland.
In the 4 days out we will aim to complete all the main ridge Munros weather permitting.  The completion of these Munros gives 4 days of spectacular mountaineering amongst the jagged peaks and wild ridges of the Black Cuillin of Skye, an unforgettable experience.
The Munros include;
1 – Sgùrr nan Gillean
2 – Am Basteir
3 – Bruach na Frìthe
4 – Sgùrr a' Mhadaidh
5 – Sgùrr a' Ghreadaidh
6 – Sgùrr na Banachdaich
7 – Sgùrr Dearg (The Inaccessible Pinnacle)
8 – Sgùrr MhicChoinnich
9 – Sgùrr Alasdair
10 – Sgùrr Dubh Mòr
11 – Sgùrr nan Eag
Blà Bheinn (Blaven) is Skyes 12 Munro, it is an outlier of the main ridge and technically easier, people are often happy to complete Blaven under their own guidance but if you would prefer to have a guide for this as well then just let us know and we'll add an extra day onto the course to complete this.
The valley base for this course will be Glen Brittle, it is priced on a non-residential basis.
To discuss the details of this course or for recommended accommodation please Contact Us.
Note – We run this course at a 1:4 instructor client ratio max.  We can supply additional instructors for larger groups wanting this course.
What is included

Guided/Instructed days out

Technical Equipment

Accommodation

Breakfast

Evening Meal

Daily Transport
Sometimes, depending on where people are travelling from, there is the potential to arrange car sharing reducing the travel costs for everyone as well as being a bit more eco friendly.  Please let us know if this is of interest.
The relevant Kit List is in our Resources.
For more information please Contact Us.
Note – We can still run this course/trip even if it is not full, however there might be an additional charge to bring the price up to a minimum daily rate/trip price for the relevant course or trip.  Should a course not be viable due to lack of numbers we can discuss other options with you.  As everyone has different levels of flexibility with dates and cut-off times for cancellation it's best if you let us know your situation when booking.  In situations where you have offered last minute flexibility but Mountain Circles can not fill a course and has to cancel, we will refund the course fee and deposit in full, if you cancel from a course that is full and running then normal conditions apply, see Cancellations in How to book.