Winter Alpine Rope-work – UK based preparation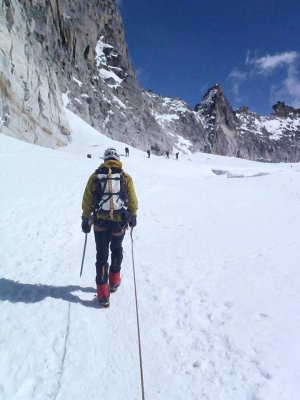 This is a winter version of our more summer orientated course Alpine Rope-work – UK based preparation.  This course can be run in the Lake District or Scotland using longer scrambles and easy long climbs to simulate routes of Alpine length.  By running this as a winter course we can include axe and crampon related considerations and look at additional skills such as;
abseiling off ice threads
using snow anchors
ice axe arrest technique
crevasse rescue (improvised crevasse)
roping up for glacial travel
This course is aimed at people who already have climbing experience and some winter experience but have not applied their skills to the longer routes of the Alps and beyond which often require a faster more efficient approach than the majority of our 'pitched' UK climbs.
The aim will be to explore the various techniques and skills that will allow fast and safe movement on longer routes, where, for example,  the terrain may require sections to be 'pitched' in the traditional way as well as easier sections where moving together with coils taken on the body will be required for speed.
We run the majority of our winter courses in Scotland, in either the Fortwilliam or Aviemore areas, but when winter conditions are good in the Lake District then we are really keen to get out on the brilliant routes on offer here.  The Lakes can often be more easily accessible for people coming from the south of the country and wanting to just spend a weekend away and courses can be booked last minute based on good conditions or the focus shifted onto rock climbing if there is a lack of good snow and ice conditions.  see Blog for winter condition updates.
All technical equipment can be supplied at no extra charge.
1:1 – £180
1:2 – £210
Note – We only run Winter Alpine Rope-work courses at a 1:2 instructor client ratio max.  We can supply additional instructors for larger groups wanting Winter Alpine Rope-work.