Winter Mountaineering – Glencoe and Ben Nevis Range 2 Day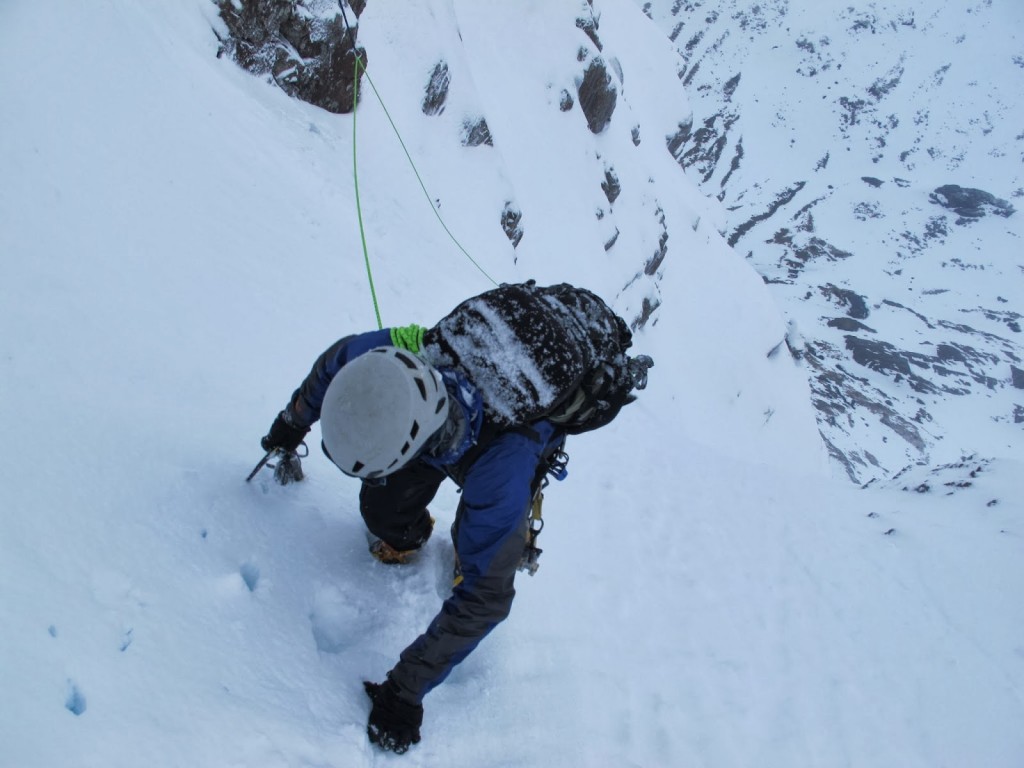 Dates: 21/02/15 – 22/02/15
Duration: 2 Mountaineering Days
Client Instructor Ratio: 1:4
Price: £160 (Course must be full for this price to apply – see page footnote)
Course Information
This course builds on our winter walking skills course bringing in new skills and techniques required for safe travel on technical ground up to about Grade II in winter.
The focus on this course will be to consolidate crampon and axe use on easy snow gullies and graded ridges and to add in the use of a rope and basic climbing gear.  As well as slings and hand placed rock protection, we will look at snow anchors and ice screw.  Roping up and keeping safe without going into full climbing procedure will be the focus, we will also look at retreat options, such as abseilng off a snow bollard over a cornice blocked descent gully.
If you like the idea of covering more ground with less intensive instruction then perhaps a more guided approach is what you are looking for?  Follow the link for more detail – Guided day or Instruction – what's best for you?
The sort of routes this type of rope-work will be appropriate for and we may well visit on this course would be Ledge Route on Ben Nevis or Curved Ridge on The Buachaille in Glencoe.
See Blog for winter condition updates. Bad Weather Option.
Note – We run Winter Mountaineering courses at a 1:4 instructor client ratio max. We can supply additional instructors for larger groups wanting Winter Mountaineering or you can look at Group Programmes for group activities which can include guided winter walks for larger groups.
What is included

Guided/Instructed days out

Technical Equipment

Accommodation

Breakfast

Evening Meal

Optional Avalanche Talk

Daily Transport*
*Note – We sometimes include transport to a course venue, or airport transfers for our overseas trips where indicated. Contact Us to discuss.
Accommodation
B+B Accommodation is included on this course. Prices quoted include sharing a twin room and offer 5 nights B+B, we can also offer a single room if preferred at an additional cost of £7 – £10 per night depending on the time of year. Should the course have uneven numbers or mixed sexes we will not charge extra for anyone ending up in a single room who would have been happy to share otherwise. The booking will include the night before the course start date, but not the night after the last day as often people wish to leave. Nights can be added and dropped on request, we recommend this is done well in advance. A double room option is also available.
This course will run out of the brilliantly situated Fern Villa, see www.fernvilla.org.uk. Based in Ballachuilish this allows easy access to the venues of Glencoe, Ben Nevis and the surrounding ranges. Fern Villa provides a highly comfortable and relaxing base with a guest living room and drying room facilities. There is the local Co-Operative for buying lunch supplies within easy walking distance. For evening meals there is the Laroch Bar and Bistro only 150 yards away and the Glencoe Inn about a mile away, this can be walked to via the cycle path if you have energy to spare. There are many other options within the area also, the well known Clachaig Inn is only a short drive away and popular with climbers. There is a regular bus link with Fortwilliam and the nearest train station for those wanting to use public transport, we may be able to offer a free transfer if arriving late also. Sometimes, depending on where people are travelling from, there is the potential to arrange car sharing reducing the travel costs for everyone as well as being a bit more eco friendly.
For our winter courses we offer an optional evening Avalanche Awareness Talk.
The relevant Kit List is in our Resources.
For more information please Contact Us.
Note – We can still run this course/trip even if it is not full, however there might be an additional charge to bring the price up to a minimum daily rate/trip price for the relevant course or trip. Should a course not be viable due to lack of numbers we can discuss other options with you. As everyone has different levels of flexibility with dates and cut-off times for cancellation it's best if you let us know your situation when booking. In situations where you have offered last minute flexibility but Mountain Circles can not fill a course and has to cancel, we will refund the course fee and deposit in full, if you cancel from a course that is full and running then normal conditions apply, see Cancellations in How to book.