Winter Walking Skills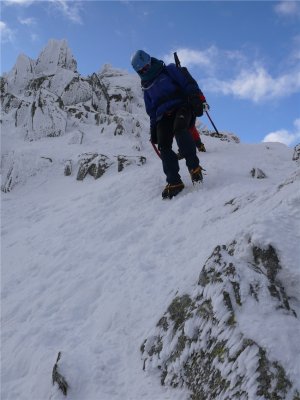 This course is designed for walkers who want to venture into the mountains in winter.  The course will aim to cover the key skills required for safe travel in winter conditions on walking terrain.
Some key skills covered will be;
correct clothing and equipment check
winter weather and avalanche forecasts
avalanche considerations on the mountain
use of winter boots as a tool (kicking steps)
use of ice axe
use of crampons
ice axe arrest (see – Technical Videos)
Additional skills possible;
emergency shelters
winter navigation
basic emergency rope-work
snow hole construction and night out
To cover the full range of skills above we would need to be out for at least 2 days on the mountain, though a single day out is possible with the aim of covering the basic skills.
We run the majority of our winter courses in Scotland, in either the Fortwilliam or Aviemore areas, but when winter conditions are good in the Lake District then we are really keen to get out on our local mountains.  The Lakes can often be more easily accessible for people coming from the south of the country and wanting to just spend a weekend away and courses can be booked last minute based on good conditions or the focus shifted onto general mountain skills if there is a lack of good snow cover.  see Blog for winter condition updates.
All technical equipment can be supplied at no extra charge.
1:1 – £160
1:2 – £180
1:3 – £200
1:4 – £220
1:5 – £240
1:6 – £260
1:7 – £280
1:8 – £300
Note – We run Winter Walking Skills courses at a 1:8 instructor client ratio max.  We can supply additional instructors for larger groups wanting Winter Walking Skills or you can look at Group Programmes for group activities which can include guided winter walks for groups.