Kit Review – Sherpa Manaslu Hoody
I have been using the Manaslu hoody jacket from Sherpa Adventure Gear for a few months now, over this time its been used for an expedition in Nepal climbing Ama Dablam and Island Peak, and for over a month of Scottish winter climbing and mountaineering.
The Manaslu hoody is really well thought out.  It is amazingly light for the warmth it gives and the Pertex Quantum shell on the body turns a shower and repels the wind nicely.  The jacket also is really comfortable with a pack on, I trekked and climbed for 30 days in Nepal and wore it most days with no discomfort or rubbing at all.  The chest pocket is on the right and so is off set with the usual left hand chest pocket on the outer layers to avoid stacking of material on one side.  The lower pockets are set high for a harness fit and hood is helmet compatible, so this is a great technical piece of kit designed for all mountaineering activities.
From the first outing the Manaslu felt well fitted and comfortable.  The conditions in Nepal were sunny and dry on the mountain, but with cold nights and a cool high altitude breeze at times.  Some early starts also gave some hour of moving in darkness with very low temperatures.  The Manaslu hoody was really the perfect piece of kit on this trip.  In good weather on the mountain I was able to move in it alone with a base-layer beneath, and when cold it acted as a mid layer.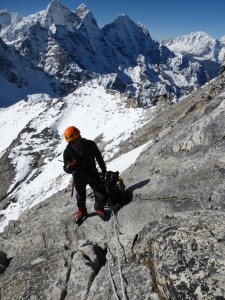 Cool and dry weather on the SW Ridge on Ama Dablam, wearing Manaslu Jacket and Tsepun top 1/4 zip.
Its been in Scotland (the ultimate testing ground) this winter though that I've been most impressed with the Manaslu Jacket.  The range of conditions and temperatures in Scotland, along with wind and high humidity levels mean any piece of clothing is going to have to work hard to cover all the bases!  I have worn the Manaslu hoody everyday on the hill this season in Scotland.  It offers a really comfortable layer of insulation to the core area with PrimaLoft fill, which stays warm even when damp, yet the Power Stretch fleece hood and arms do not restrict movement when climbing whilst offering some insulation.  The hood is really comfortable and zips up well over the chin so is really comfortable under a helmet rather than a hat, this also means the neck is covered with no gaps down the back.  The warmth offered has been perfect for Scotland, I've walked in in this to climb on the cooler days without over heating and enjoying the hood being up, and used it as a mid layer on the wilder snowy and wet days as an all in one option, as opposed to a light mid layer and body warmer to boost core heat.  On the cold damp ( just above freezing) blustery days the consistent heat of the PrimaLoft has been very welcome.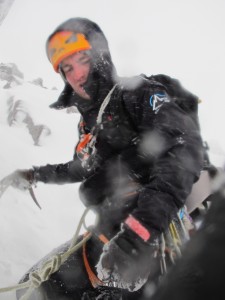 Cold and windy conditions in the Cairngorms, wearing the Manaslu Jacket, Tsepun top 1/4 zip and brilliant new Lakpa Rita hardshell with Event fabric, a brilliant combination.
The Manaslu is a top piece of kit from Sherpa Adventure Gear and I'd highly recommend it as a really versatile and functional mid layer, its been a key part of my layering system so far in the Himalayas and Scotland and I'm sure will continue to prove itself on future trips across the seasons.
For more information on this product see – http://www.sherpaadventuregear.co.uk/mens-c1/insulation-c11/manaslu-jacket-black-p7