Winter Navigation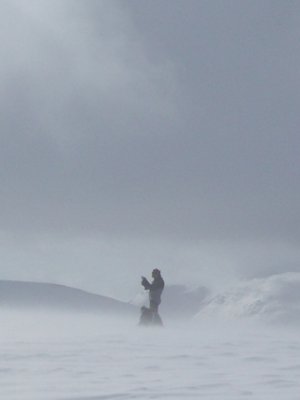 This instructional course is for people who want to spend time focusing on their winter specific navigation skills.  Its aimed at people with some navigation experience who want to apply their skills to the added challenges of the mountains in winter conditions.  The days out will take you into the mountains away from the usual obvious features where the focus will be on using subtle features to work off as many of the usual features will be snowed over, paths and river beds for example.
Some of the skills we often cover on this course in winter conditions are;
map selection
route choice and winter specific strategy
winter specific hazards and avoidance, frozen rivers, cornices etc.
compass use
taking bearings
pacing distance
timing distance
contour interpretation
judgment when route finding
weather effects and forecasts
relocating when disorientated
tracking another leader
micro navigation
avalanche awareness and safe route choice
We tend to run the majority of our winter navigation courses in Scotland, the Aviemore area being very reliable with perfect terrain.  We can also run winter navigation courses in other locations on request and based on winter conditions, please Contact Us to discuss.  The Lake District is also very good for this type of course when the snow cover is adequate and can be easily accessed from the south even for a weekend.  See our Blog for updates on winter conditions.
Additional skills possible;
night navigation.  Winter navigation by head torch.  This can be an additional 2-3 hours out on the mountain at a small extra cost (£20 per person).  Alternatively it can be incorporated with a night in a snow-hole which we can construct.  This gives a unique experience at an additional cost (£60 per person) and night navigation can be included within that price.
basic emergency winter rope-work
emergency skills, evacuation and emergency snow shelters
advanced avalanche awareness
Note – by including extra winter skills, other than night navigation, you will reduce the time spent on navigation and so 2 days at least might be worth considering.  Or alternatively you could consider our Winter Walking Skills course which is more focused on crampon and axe use but can include some navigation if requested.
All technical equipment can be supplied at no extra charge.
1:1 – £160
1:2 – £180
1:3 – £200
1:4 – £220
Note – We run Winter Navigation courses at a 1:4 instructor client ratio max.  We can supply additional instructors for larger groups wanting winter navigation or you can look at Group Programmes for group activities which can include guided winter walks for groups.